BEST MARKETPLACE IN MOROCCO
join us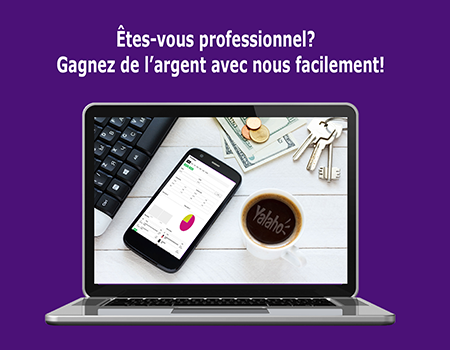 🇫🇷 FR!"
🇫🇷 FR!"
🇫🇷 FR?
Online shopping and services on Yalaho Markeplace – Low prices in all areas
Discover Yalaho Markeplace, the first online sales and purchase Marketplace in Morocco ! Yalaho Markeplace is the largest online shopping site in Morocco that allows both customers to be brought together directly, and sellers, whether they are individuals or professionals. Our online platform allows you to benefit from low prices on a wide selection of products. Thanks to our expertise, you can buy and sell in complete safety.You are looking for great deals at affordable and cheap prices ? Yalaho Markeplace is for you! On Yalaho Markeplace you will be able to find thousands of new or used products at the best prices. Buy or sell a smartphone directly, men's shoes, fashion accessories, cosmetics, clothes for women ... With Yalaho Markeplace Maroc, make your online shopping easy!
How to buy online?
You are looking for a used tablet, of a watch, a pair of glasses or even a perfume to offer? Sur Yalaho Markeplace, 🇫🇷 FR, Samsung, Apple, and categories such as women's dresses, shirts, shoes, gymnastic equipment, books, electronic, watches,phones and tablets, to jewelry, watches and glasses sports accessories and more. Do not wait any longer, buy online on Yalaho Markeplace at the best price! For that, nothing easier, you just have to choose the items you want from our different product ranges, order and in a few days, receive the products directly at home. On Yalaho Markeplace buy with ease, thanks to a secure payment system. To make a purchase, 🇫🇷 FR (shopping cart icon)' 🇫🇷 FR, you can add as many items as you want to order to your basket without risk. However before checking, you can add as many items as you want to order to your basket without risk.
How to sell online?
Chez Yalaho Markeplace, our goal is that you can create your online shopping store for free. You will easily earn money by selling your items directly to buyers, while benefiting from the Yalaho Markeplace experience. You can easily sell all types of items online on Yalaho Markeplace and attract buyers from all cities of Morocco, at the price you want, whether new or second-hand, by putting them online directly and free of charge on our site. Join us soon, it's free!